Views) :
The resolution of the current serious economic crisis is in any case a herculean task. Without political stability, this is impossible. As of this writing, no one knows who will be chosen as prime minister of a "national" caretaker government.
No finance minister
Without a Minister of Finance and without a Cabinet, the ongoing discussions with the International Monetary Fund (IMF), the World Bank and other multilateral organizations will not be conclusive. Even humanitarian aid can be blocked.
CB Governor Weerasinghe
The seriousness of this instability was highlighted by Central Bank Governor Dr. Nandalal Weerasinghe. He said at a press conference a few days ago that he had communicated to all political parties, including the president, that if no political stability was achieved within the next two weeks, he would resign from his position. post of governor.
extremely difficult
The governor said it was extremely difficult to revive an economy in a country where law and order is not maintained. He stressed that political stability is paramount and that if the current situation continues in the next two to three days without a government in place, things could get worse with prolonged power cuts of around ten to twelve hours, massive shortages fuel and other essentials.
no government
He pointed out that without a legitimate government with a prime minister, a cabinet and a finance minister, the country will not be able to proceed with debt restructuring and negotiations with the IMF.
no understanding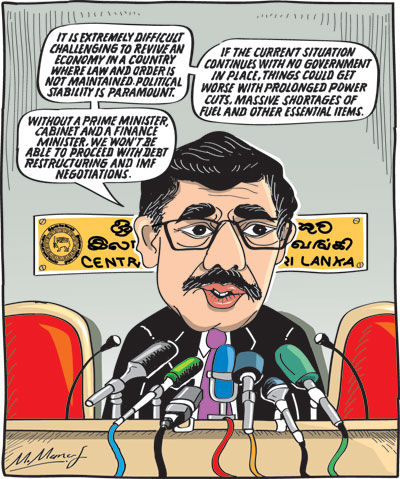 People don't understand that. They want immediate relief from shortages of food, fuel, medicine and basic necessities and a reduction in soaring prices.
Foreign reserves
The foreign exchange shortage reached a nadir of US$20 million, enough for just one week's imports. How to solve this crisis without government?
The turn of events since last Monday has dashed any hope of a political arrangement conducive to an economic recovery. There is no certainty as to how and where the current lawless conditions would impact the economy.
Hope
There was a glimmer of hope that the political deadlock that gripped the country for months would be resolved by proposals from the Bar Association of Sri Lanka (BASL) to form a multi-party national government. This was only a glimmer of expectation as several of the terms of the Bar Association of Sri Lanka (BASL) proposal had not yet been agreed upon and an acceptable leader was chosen.
MR output
The only breakthrough was the resignation of Prime Minister Mahinda Rajapaksa. However, the resulting violence, the breakdown of public order and the chaotic state of the country are hardly conducive to solving the serious economic problems facing the country. The country is heading towards a state of anarchy where life is "mean, brutal and short".
Anarchy
Protests, demonstrations, strikes and long queues for gas, petrol and kerosene have been the dominant feature of life in Sri Lanka for several weeks. Yet there are no signs of lasting solutions to these shortages in sight. Occasional help only in case of foreign assistance.
The current chaos only aggravates the shortages and makes it even more difficult to improve the economic problems. Even this humanitarian aid and the arrangements of international organizations to divert aid from the project to relief measures and subsidies may not materialize in the current chaos, lawlessness and human rights abuses.
Economy
Foreign exchange reserves have declined to US$20 million with little prospect of improvement in the balance of payments. The country is completely dependent on help from international organizations, friendly countries and even NGOs and people abroad. Immediate relief would come from this humanitarian aid.
Assistance
It is expected that friendly governments and international organizations will lend until the IMF program is in place. Several governments and international organizations have promised humanitarian aid, but will this be provided in this situation where there is no prime minister and cabinet. Will the necessary transition funding be available in this perilous state of political instability and the absence of law and order?
IMF
Talks are underway between the government and the IMF to obtain assistance. The hope of obtaining the Rapid Financial Instrument (RFI), on which the government based its expectations, was disappointing because debt sustainability is a condition of this aid. Talks to secure an Extended Credit Facility (ECF) are also on hold with the country without a finance minister.
Other help
There is no choice but to enter into an arrangement with the IMF for an Extended Credit Facility (ECF) and a longer-term Structural Credit Facility (SCF). These two programs require an agreement to fulfill certain conditions of sound economic management. These include reducing the budget deficit or consolidating public finances by reducing spending and increasing government revenues, as reported in last Sunday's column. These would be politically unpopular and bring new hardships to people.
national government
A national government composed of all political parties would be able to implement these policies. However, if a party leaves the coalition to gain popularity, its establishment will be difficult. If the tough economic decisions required are not made and implemented, the country risks descending into a state of economic deprivation that is hard to imagine.
brighter outlook
If, on the other hand, the country adopts the reform measures to achieve fiscal consolidation and strengthens the country's public finance and exchange rate management which ensures lower trade deficit, higher revenue from services ICT, conducive conditions for increased tourism revenue and inward remittances, we would be on the road to economic recovery and development.
Conclusion
The road to economic recovery is paved with many stages of difficult policies and unpopular economic reforms. Only a competent multi-party government could implement these reforms and correct economic policies that are unpopular policies. The resolution of the current political crisis and social unrest are prerequisites for the formation of such a government. Will it be achieved?
Buying or selling electronic devices has never been easier with the help of Hitad.lk! At Hitad.lk, we listen to your needs and strive to provide you with the perfect electronics listings; because we have lists for almost everything! Find your favorite electronic items for sale on Hitad.lk today!