[ad_1]
Political science students study how the US electoral system works and how voters assess parties, candidates and issues. And who better to tackle these topics than former Arizona governor, former Homeland Security secretary and current University of California president Janet Napolitano?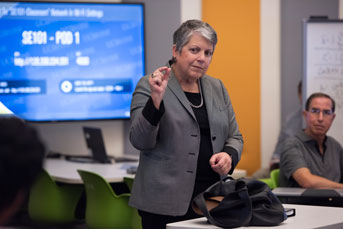 The UC president entered a 121C political science class during a campus tour on November 1 to discuss the importance of participating in the political process through polls.
Napolitano started the conversation with a pressing question: "How do you get young people to vote? "
The class response? Make students feel more involved. Most politicians don't champion youth-focused issues like student loans and higher education, but if these issues were at the top of party platforms, students would be much more invested in voting.
With so many close elections, the youth vote is key – in the recent national election, less than half of California students are going to the polls. Ahead of the 2018 midterm elections, UC leaders were particularly active in pushing for the vote, supporting registration drives and related activities on all campuses.
The UC Students' Association, through its UCweVote campaign, has created an online tool with which students can register, get ballot information, and pledge to vote. It also seeks to increase turnout on election day; students who text "WE VOTE" to 562-850-1721 can access resources on how to find their polling station, cast a mail-in ballot, and more. UCSA has set an ambitious goal of reaching 100,000 students, the equivalent of half of all UC undergraduates are eligible to vote.
Back in class, enthusiastic students sprinkled Napolitano with questions ranging from the Deferred Action Program for Childhood Arrivals and how she worked across party lines as governor of Arizona to his thoughts on the current political climate.
"I have never known a country so divided," she told them. "Right now, with our biggest problems – climate change and immigration – we seem unable to have a discussion. Change can only be made when voters demand it. "
The students appreciated the opportunity to speak with the president of UC.
"She was outspoken and honest, and it was great to hear what she was feeling," said Vaibhav Gowda, a political science and economics graduate.
"It was really great," added Jorge Gutierrez, a senior sociology student. "She has shown that she cares."
[ad_2]
Source link